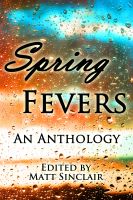 Hey all! I've got a new short story out! It's part of Spring Fevers, an anthology of short stories that explores relationships in their varied states: love, friendships, family in its many guises, and the myriad places in between.
Created by Cat Woods and Matt Sinclair, Spring Fevers arose from their work with the Agent Query Connect online writing community. While membership in the free site was not necessary for inclusion in the anthology, the ten writers whose stories appear are all members. A variety of genres, including young adult, literary, and science fiction, are represented in the collection, and my contribution, Resolution, is a lot different than The Empress and the Comic story that came out earlier this year. Please check it out!
And the best part – it's FREE. (Or at least it is on Smashwords. Amazon will charge you a whopping 99 cents, all of which is going to charity.) So enjoy a short from myself and the other talented writers in this collection.