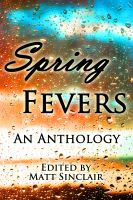 S.Q. Eries' third short story, "Resolution," is a contemporary tale describing a New Year's Day meeting between a woman's husband, lover, and brother. It was published in Spring Fevers, an anthology that explores relationships in their varied states: love, friendships, family in its many guises, and the myriad places in between.
Spring Fevers is FREE in downloadable form on Smashwords.
For those who prefer paper copies, you can purchase the book through Createspace.